CB Gets Lazy
The 'Inner Mounting Flame is my second look at The Mahavishnu Orchestra. I was just blown away by this band. John McLaughlin, Rick Laird, Jan Hammer, Jerry Goodman and Billy Cobham. They make some of my favorite music. Beautiful noise. This album still sounds fresh.
I am going to give you all a break and let my friend Francisco ( https://eretxa.wordpress.com/ ) give you his words on this great record. We are on common ground with this one. He was kind enough to lend me his take. I love it. Take it away fella.
It was August of 1971, and I was about to enter High School…
But I was already in love with music, especially the rock music of the era. This was when musicians tended to blend elements of blues, jazz and country and weave all that through the ever increasing riffs and progressions of developing rock. A new sound was being worked on, brought up from the earth, conjured, and created. And it seriously seduced me, captured me, and made me a life-long fan…
Then I heard a new sound…
The Inner Mounting Flame. This album was released in the summer when I turned sixteen and was already playing guitar in some garage bands in my Miami neighbourhood. It blew my mind! It was 'far out', cool beyond compare, an album to sit and listen to and guitar solos to try to learn.
As it turned out this was the first studio album of the North American band Mahavishnu Orchestra. They were considered 'jazz-fusion', but I just considered them incredible!
It was released on the 14th of August 1971. It is album number 89 on the Billboard top 200 of that year. It is now considered as the first…one of the first I would say…album to fuse jazz and rock to make jazz-rock. Sort of how I fused jazz and art to make 'JaZzArt', (got to throw in a bit of shameless self-promotion). One of the tunes, "You Know, You Know" has been covered by Massive Attack, Mos Def, Black Sheep and David Sylvian, and maybe others.
A wee bit about John McLaughlin, (English guitarist extraordinaire, whose solo on the song "Miles Beyond" from their album Birds of Fire won a Grammy in 2018 for the Best Solo for Jazz Improvisation), was known as Mahavishnu John McLaughlin. He was born in Doncaster on the 4th of January 1942). He played his axe to the max and led the group, also arranging and composing. He not only fused elements of Jazz and rock, but he added 'world beat' and the most unique sounds of Indian Classical Music, Flamenco and the Blues. He came to the United States in 1969 and recorded with Miles Davis, playing in such "classics" as In a Silent Way, Bitches Brew, Jack Johnson and On the Corner. Undoubtedly McLaughlin and the band he created, The Mahavishnu Orchestra, is made up of all virtuoso musicians, technically and creatively. They are more than quite capable of creating their style of electric jazz-rock fusion with Indian influences et al.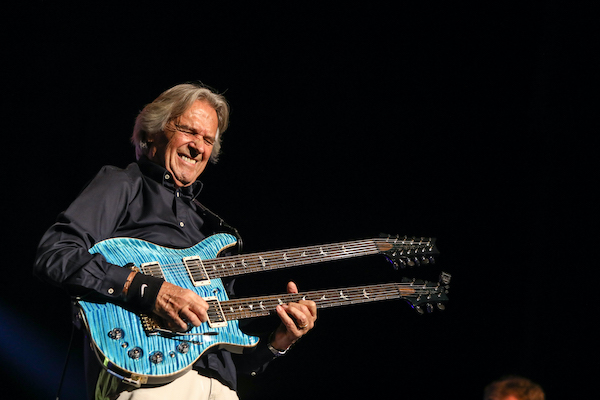 If I sound a bit excited about this album it is because I am. I had not heard it in years but now that I got it out and placed it under the needle, that vinyl still sounds as good as the day I bought it. And listening to it has truly transported me back there, to that other world that existed prior to terrorism, politically correctness, sexual harassment and COVID-19. Go figure…
Thanks for letting me do this Francisco. Appreciate your permission to share your personal connection with Mahavishnu Orchestra. Plus letting me get a little lazy. Gracias.
(Check out Francisco's blog. He is one talented guy and always has interesting content. https://eretxa.wordpress.com/ )